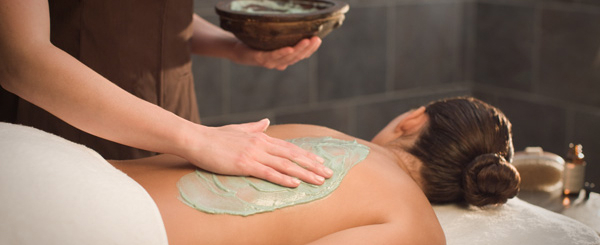 Content Provided by Woodhouse Day Spa
"What is a body treatment?"
A body treatment is a fully immersive experience that benefits the entire body. The Woodhouse Day Spa offers seven different body treatments, and while all are results-oriented, each is unique. Here are just a few things our body treatments can do for you!
1. Detoxify
Seaweed is your best friend when it comes to detoxification. The Lazy Days Renewal Ritual puts it to use in all the best ways. First, a body scrub. Using organic, hand-harvested seaweed, feel your skin soften and body detoxify. Next, soak in a tub of seaweed, sea salt and essences of spice and citrus. And there's more. Enjoy a 45-minute massage using – you guessed it – nourishing seaweed and toning oil for a restored and vibrant you.
Our Organic Seaweed Leaf Wrap begins with dry brush exfoliation using a stylized lymphatic technique to help reduce water retention. Next, Atlantic seaweed cocoons and detoxifies the body. While the seaweed's minerals, vitamins and amino acids work their magic, you will be treated to a relaxing scalp massage. A body remedy inspired by the sea.
Using a finely ground seaweed our detoxifying Warm Spiced Mud Wrap begins with a stimulating exfoliation. Organic Atlantic seaweed combined with purifying peat, organic ginger and cinnamon produces a mud wrap lush with anti-oxidants and minerals. Finish with a therapeutic Vichy Shower. You'll love the immediate effects of firming and toning on the skin.
2. Invigorate
The Wild Lavender and Seaweed Sugar Glow Treatment uses organic seaweed extract, lavender essential oil, organic sugar and more to invigorate, exfoliate and nourish the skin. This treatment includes a therapeutic Vichy shower and hydrating lotion. Tired muscles melt away while skin becomes smooth and soft.
3. Correct
Your body is something to be proud of, although sometimes we need a little confidence boost. These treatments are designed to help you achieve better overall results.
Our Shrink to Fit Cellulite Body Wrap combines deep tissue and lymphatic massage to lift and tighten your hips and thighs. How: Powerful actives incite circulation while adding moisture to firm. We recommend you receive this treatment in a weekly series of 3-6.
Stretch marks are a sign of life changes and experiences. While they're nothing to be ashamed of, sometimes we wish they'd just go away. Our Stretch Mark Smoother enhances skin texture and color using a blend of peptides, fruit and algae extracts and nourishing oils. Along with home care, incredible results are on the horizon!
4. A little bit of everything
The Woodhouse Escape is made for complete relaxation. With a taste of seven specialized treatments, it's the perfect way to discover what The Woodhouse Day Spa is all about. Dry brush exfoliation for circulation, therapeutic stone massage for relaxation, neck and shoulders massage to release upper body tension, renewing acupressure, scalp and hand & arm massage, and the ancient art of reflexology. This head-to-toe spa experience is like no other.
While there are likely many more benefits then we were able to list here, you should have a good idea of just how effective our services can be.
A body treatment is truly the Ultimate Spa Experience. You don't have to travel to a destination spa because The Woodhouse Day Spa brings luxury spa services to you.
Treat Yourself Today!